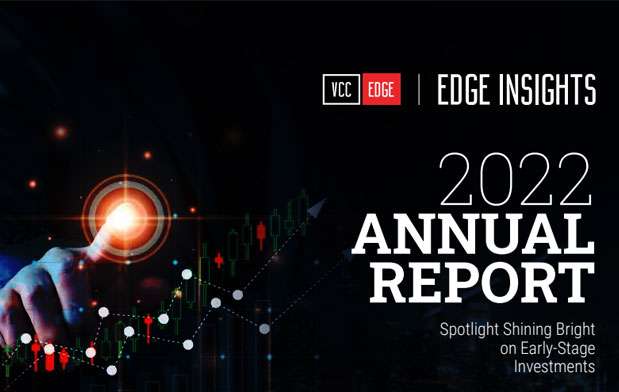 FY2022 saw a mix portfolio of early-stage investments wherein:
Private Equity deal value and volume remained patchy.
PE Exit Deals saw a downturn due to slow market conditions and exit valuation.
Mergers & Acquisitions activity big ticket consolidation resulted a surge in deal values. Whereas, the deal volume witnessed a decline from 958 to 869 deals from 2021 to 2022 resp.
Equity Capital Market gone weak as the ECM deal activity and capital raised significantly declined by 6% and 64% resp.
In 2022, The Private Equity (PE)deals went on a halt due to inflationary pressures, rising interest rates, and the threat of a recession, resulting to a decline in PE deal value almost as low as pre- COVID at $41.83 Billion. Irrespective of the fall in deal volume and value, Angel/Seed funding remained resilient with a major focus on defined business models and solid underlying ideas remained the most conventional series of funding. Further, Venture Capital came in second with 589 transactions, and Private Equity third with 113 deals, where the Information Technology sector continues to dominate.
Moreover, Private Equity Exit deals dropped by 20% and 35% on a Y-o-Y basis. Stagnant markets, reluctancy in selling the company due to low valuation, and caution decisions by corporate buyers, made the routes further narrowed down. Studies depicts situations where Merger and Acquisition topped charts while Secondary Sales saw five -year high in exit breakdown deal value.
FY22 was dynamic with evolving supply chains and innovative approaches for Mergers & Acquisitions (M&A). Domestic M&A deals by deal value saw an 2x upward trend, whereas mid-size deal segments $25 - $50 million saw 28% growth in deal activity and 35% growth in deal value on a Y-o-Y basis. Information Technology sector topped the charts this year and also saw a turnaround in asset-heavy sectors such as Materials witnessing 5x growth in deal value and 36% growth in deal activity.
Equity Capital Market (ECM) deals, including Initial Public Offerings, Follow-on Offerings, Rights Issues, Qualified Institutional Placements, and institutional placements, saw a significant decline in both deal activity and value in 2022. Investors focused most of their emphasis on the industrial sector with 28 transactions being the highest ECM activity in 2022, closely followed by the Financials sector. IPO dominated among top deals, accounting 60% of big-ticket transactions.
Are you looking for in-depth and more comprehensive data on financial research? Download the VCCEdge annual report and get a detailed overview of the private equity, venture capital, mergers & acquisitions and equity capital market deals.
FILL DETAILS BELOW TO DOWNLOAD COMPLETE REPORT